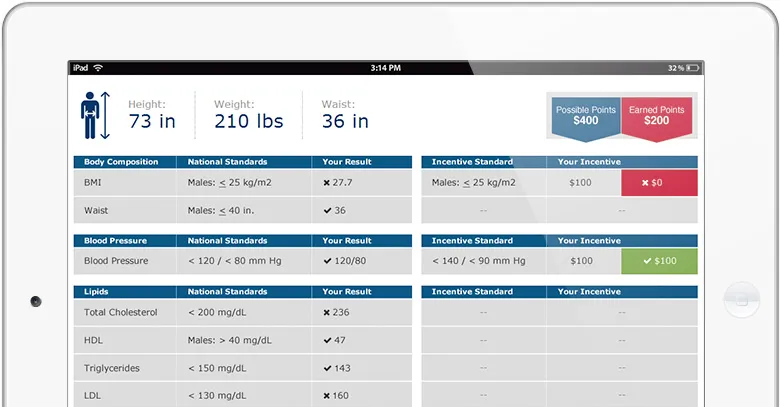 Don't Pay for iPads at Your Biometric Screenings
November 23rd, 2015
Category: Blog
The biometric screening industry has been moving towards using tablet technology at onsite events to capture participants' results. And it's not just because iPads are cool. There are three primary benefits that come with tablets at health screening events, and you shouldn't have to pay for any of them. With competitors charging up to $4 per participant, the bill for tablet technology is significant. You should negotiate it right out of your contract or consider another vendor.
Three Primary Benefits of iPads at Biometric Screening Events
Benefit #1: Better, More Timely Wellness Engagement
The biggest potential benefit to clients should be better wellness engagement, because screening data can be captured and transmitted in real time. Imagine your employees returning to their desks from the biometric screening to find a customized email describing their next wellness steps. Or, foresee a wellness coach contacting high-risk individuals within the hour, encouraging them to join the most appropriate wellness program based on their biometric results.
We all know biometric screenings are a gateway to wellness; tablet technology provides the means to get customized engagement information to the employee immediately, while health is still top of mind.
Benefit #2: Environmentally Friendly
Tablet based data collection is more environmentally friendly because it removes paper from the screening process. For those organizations with "paperless" initiatives, it's one more notch in the belt with respect to vendor management, in addition to doing the right thing for the environment. Plus, let's face it…iPads are cool.
Benefit #3: Lower Overhead Costs…for your vendor
Benefits 1 & 2 above are realized by you, the client. This benefit is realized by your biometric screening vendor.
Your vendor has to pay something for tablet technology, either to offset their IT development costs if they built it in-house or the fees they are paying to lease the tablet technology from somebody else. The cost of the tablet technology, however, is offset by the cost savings the vendor realizes by deploying tablets.
Without tablet technology, your vendor has to pay data entry specialists to enter screening results captured on paper into a system that can be used to electronically store and transmit the data. They also have to pay for the paper forms they would otherwise be using. With tablet technology, these vendor costs are eliminated.
If your vendor is offsetting the expenses associated with tablet technology with the cost savings they realize, why are they charging you a fee to provide tablets at your biometric screening?
Onsite Health Diagnostics is the most technologically advanced biometric screening company in the nation; we are also the most pragmatic. It simply makes no sense for you to pay for tablet technology; with us, you never have to.
We evaluated the tablet technology solutions on the market and none of them met our quality control, privacy & security requirements, so we built our own.