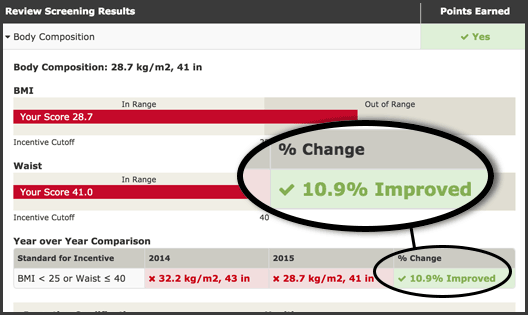 Outcomes Based Percent Improvement Thresholds: More Than Just a "Reasonable Alternative"
We all know the regulations require outcomes based wellness incentive program design to incorporate what are called "reasonable alternatives." Typical examples include a physician exemption of some kind and one or two different activity requirements such as completing an online health education class or speaking with a health coach by phone two times or more. After a few years of giving these methods a try, the benefits directors we know are skeptical as to whether these are effective at influencing employees to make lifestyle changes or simply a means for employees to 'check the box' so their paychecks are safe.
One client put it this way: "What we need are reasonable AND EFFECTIVE alternatives, not just one or the other!"
That line of thinking has driven leading wellness consultants and their clients to incorporate percent improvement thresholds as a reasonable alternative. For example, employees who cannot meet the BMI outcomes based incentive criteria are provided the alternative of losing five percent of their body weight in order to earn the same incentive as if he or she were in range to begin with. This ingenious design has two primary benefits:
Completing a 'percent improvement' or 'progress based' reasonable alternative requirement is most likely the result of lifestyle change – whether it's a change in exercise or eating habits or visiting their doctor to begin taking recommended medications.
It engages the one out of three less healthy employees who had simply resigned to the fact that they were too far away from the static biometric thresholds to qualify for the incentive. By using percentages to calculate the new thresholds, this new alternative is intrinsically personalized to the employee.
In short, this design has a much greater chance at being effective. Sure there will be the former high school wrestlers who know how to cut weight (though they will have trouble producing the blood sample due to dehydration), and others who will try to game the system without changing for the long term. However, there will also be many who now have a realistic shot at earning meaningful incentives and will make the changes necessary. This is really exciting stuff!
Roadblocks
Until recently, these forward thinkers were met with another roadblock. The online incentive management platforms available simply did not incorporate percent improvement thresholds in a simple, effective way.
This is precisely why we developed our new online outcomes based incentive management platform. Some of the features are:
Percent improvement thresholds can be set at any level, on any test
Flexible Incentive Structure: Linear (reward per test) or Metabolic Syndrome (three out of five)
HRA completion and third party activities are tracked in an easy to understand "work flow"
Other reasonable alternatives are still available and easy to access
Highly intuitive design
And the great news is, it will not break the bank.